Trademark Poker
is
America's #1 Supplier
for CUSTOM Poker Products!
(be sure to scroll through this entire article for details
about ordering and policies regarding custom products)
" Trademark Poker has always been the #1 Brand in the poker supply industry but now Trademark is the leading supplier for custom poker products."
For the LOWEST PRICE, FASTEST DELIVERY, and BEST QUALITY, you can trust Trademark Poker with all of your orders.
With a 150,000 square foot facility located just outside of Cleveland, Ohio, Trademark is equipped to handle any size order. Because Trademark is the manufacturer, your order is handled in-house. Because of this, you can rest assured that the delivery times and prices quoted will be met since Trademark has complete control of the assembly process.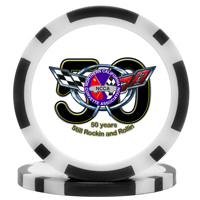 With Trademark Poker as your custom poker supplier, you can be confident that your customers will receive high quality products delivered on time…..And, because Trademark is the DIRECT SOURCE for these products, you will pay less and your profits will soar!
Who Buys Custom Poker Products?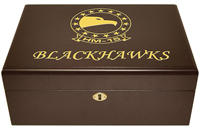 To answer this question, the evolution of poker in the last few years must be addressed. With the broadcast of Poker Tournaments and the success of online Poker sites, a version of poker called Texas Hold'em became a worldwide fad. During this time poker supplies became a popular retail item as poker became a mainstay on the shelves of many retail stores.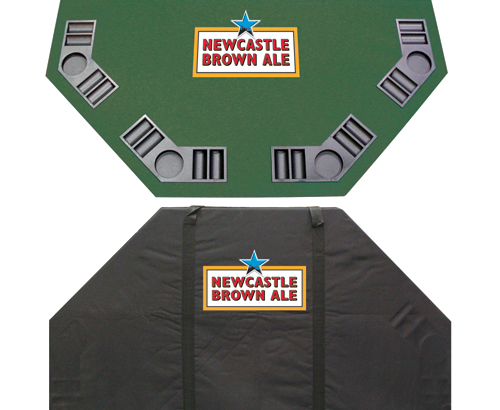 Like most fads do, poker seemed to fade. In reality though, it really just leveled out. The fad was the craze which has tempered some, but still Poker is a mainstay in the public's consciousness. This is evident by the ever growing number of local Texas Hold'em Tournaments and by the numerous TV broadcasts of poker events that still fill the airwaves.
· PROMOTIONAL PRODUCTS:
Because it appears that poker is here to stay, poker products have become a very popular item for companies to use for promotional gifts and/or incentive products.
Individuals and companies that formerly used Cigar Humidors, Wallets, Golf Balls or other men's gifts are now turning to Poker Sets, Poker Table Tops, Custom Slot Machines, Playing Cards, Poker Chip Key Chains…etc….
Trademark Poker has poker and casino products available to meet any price point. Let Trademark's sales staff assist in finding the perfect item to fit your needs. Once you identify the price point, Trademark's staff will offer you several options to present to your clients.
· CASINOS:
While this category may also fall under the above, it needs to be pointed out separately that Casino's and Card Rooms will often go a little deeper into the product base for their promotional gift selections. While they still may be interested in poker sets and cards, many casino clients have ordered Card Covers and Spinners in the past with their logo on it. Trademark's sales staff is here to assist you as needed.
· POKER LEAGUES:
A very popular trend are the bar leagues and poker tournaments that are developing all over the world. Many organizations are running poker leagues at local bars and halls in their areas.
Many of these are putting their own logo on the poker chips (Hot Stamp Logos and Full Color Inlay Logo processes are both available through Trademark) to ensure some security.
They are also using poker table tops at these tournaments (table tops are available through Trademark with or without a logo).
Several bar leagues and local tournament groups are soliciting companies to advertise on the chips and tables, which in turn covers their costs and in some cases turns a profit for them. These particular customers often need a new supply as advertisers change.
What Custom Poker Products Are Available?
· CATALOG:
Please feel free to call our sales staff at 800-218-0104 and request a Promotional Products Catalog. We will be happy to send one or more out to you. If you remove the cover you can use this catalog to present the products to your customers as there is no mention of Trademark Poker once the cover is removed.
Products in the catalog include several Poker Sets, Poker Tables and Table Tops, individual Poker Chips (many different styles), Playing Cards, Card Covers and Spinners, Key Chains and many more items including custom Slot Machines.
There is pricing with quantity breaks on each catalog page but it is coded. Your price will be 50% of the coded list price.
· E-CATALOG:
There are electronic versions of each page from the Promotional Products Catalog pages located at www.TrademarkPoker.com/promo
You can use these electronic pages to present to your customers directly by saving them on to your computer and sending them as attachments in your emails to clients (the e-catalog pages are formatted as pdf's for easy emailing purposes).
How Do I Order and Are There Set Up Fees?
· ORDERING:
Please call our 800 number (1-800-218-0104) and you will be assigned a personal account manager that will guide you through the ordering process. Your account manager will assist you during the selection process, how to present products to your customers, and assist you in ordering samples for the presentation process.
· FEES:
Pricing for all Custom Products are listed on each catalog page (your price is 50% of this list price)
In addition to these prices there will be a fixed Set Up Fee and a Fixed Die Charge for custom Hot Stamp orders. There are also optional services available for a fee including Art Creation and Expedited Service.
Below is a summary of Fees and Services:
· SET UP FEE……………………$30.00
o All Custom Orders will be assigned a set up fee of $30.00 per logo. This fee is mandatory effective immediately for all custom orders. Services provided by the payment of this Set Up Fee include:
§ Image of Custom Logo Applied to Product to be presented to your client.
§ Consent Form with image of finished product ready to be sent directly to your customer.
§ Up to 3 Revisions included (You will not be charged for a revision on a consent form in the event that up to 3 revisions are necessary. Please note: You may be charged art fees if original image needs to be altered. We can make slight adjustments to text and size adjustments to images, but any creative changes to art may be subject to incur art fees (additional $25 per hour)
· Art Specifications & Optional Fees:
o Please click here for our Art Specifications guide for instructions on the art submittal process.
o If your art does not meet the specifications outlined in the guide then we can give you a quote if you would like us to create the art for you. (Art Fee = $25 per hour)